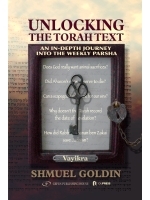 R. Shmuel Goldin's latest book on the Torah, Unlocking the Torah Text: An In-Depth Journey Into the Parsha on Vayikra, was just published by Gefen and OU Press (I work for the latter). It will be available in the US after Pesach (join us at Judaica House in Teaneck on Sunday, April 11 from 1-3pm to celebrate the book's publication). At the end of an essay on this week's Torah portion, discussing the roles of Kohanim and egalitarianism in general in the broad sense of the term, R. Goldin discusses two different views on women's roles in Judaism (a condensed version of the initial discussion can be found here: link). Note that this was written long before the latest controversy but the author is sufficiently in tune with contemporary trends in our community to have presented a timely discussion.

Tzav 2 – Manifest Destiny? – Points to Ponder

Over the past few decades increased educational, professional and per­sonal opportunities have created a call for changes in the traditional role of women in Jewish society. Within the Conservative, Reform and Re­constructionist movements this call has resulted in major transformation. Even in the Modern Orthodox community, however, new phenomena have developed, from women's tefilla (prayer) groups to advanced insti­tutions of Judaic scholarship for women, causing controversy among the halachic authorities. The ascendance of women to stations of communal leadership – from synagogue presidencies to professional positions such as yoatzot halacha (halachic advisors) – has further fueled the debate.

The uninitiated observer might well wonder what all the fuss is about. Why can't women assume their "rightful" place equal to men in all aspects of Jewish life, without question or challenge?

Our analysis of the critical balance between earned and birth roles in Jewish tradition can help us better understand some of the complexities involved in this ongoing discussion.

Which aspects of a woman's traditional role in Judaism are potentially "earned" and which aspects are "inherited"?

The Mishna distinguishes the inherited role of women in Jewish society from that of men by maintaining that women are exempt from time-bound positive biblical commandments.[26] Other areas of law that carry exemptions for women include specific isolated negative biblical commandments,[27] a number of positive rabbinic time-bound mitzvot[28] and certain spheres of testimony[29] and governance.[30]

In actuality, however, the exclusions from this general rule are as signif­icant as the inclusions.[31] Women are, for example, exempt from the mitzvot of tefillin, succa and lulav[32] yet are, for a variety of reasons, obligated in the mitzvot of Kiddush[33], matza[34] and Hakhel (the public reading of the Torah at the end of the Shmita year).[35] Exemption, in addition, does not neces­sarily imply prohibition. With some exceptions, women can accept upon themselves, voluntarily, even those mitzvot from which they are clearly halachically exempt.[36]

Why does Jewish law exempt women from time-bound positive biblical mitzvot? While the Talmud is silent on the issue, numerous suggestions are offered by later commentaries. Does this rule exist, as some would suggest, to allow women to assume primary responsibility for the Jewish home? Perhaps increased public involvement on the part of women in Jewish life would further weaken the home by conveying the message that religious fulfillment can only be found in the public arena? If so, such steps should be taken with great caution. The home is, after all, the single most impor­tant educational institution in Jewish experience (see Bereishit: Vayechi 4, Approaches B and Points to Ponder; Shmot: Bo 4, Approaches A).

On the other hand, the Talmud offers no clear reason for the hala­chic exemption concerning women. Are we, then, assuming too much by offering the above (or, for that matter, any) rationale? Given the great advances made in women's Jewish education and their changing roles in secular scholarship and the workplace, should Jewish practice lag behind? Major changes can arguably be made in the ritual and communal roles of Jewish women while remaining loyal to the letter of the law. Can we risk the potential disaffection of a large number of today's Jewishly educated, knowledgeable and accomplished women if such changes are not made? Should we not more clearly try to define exactly which aspects of a woman's role are, according to Jewish law, immutably inherited at birth and which aspects can be earned?

A full analysis of the halachic and philosophical issues involved in this discussion remains well beyond the scope of our study. Even a cursory re­view, however, reveals legitimate concerns on both sides of this controversy that merit careful consideration.

A carefully crafted balance between birth and earned-roles has helped ensure the continuity of Jewish society across the ages. The collision of these roles at the cutting edge of Jewish life today may well shape the course of our people's future.

---
26. Mishna Kiddushin 1:7.
27. ibid.
28. Tosafot, Brachot 20b.
29. Shulchan Aruch, Choshen Mishpat 35:14; and in Hagot HaRema.
30. Rambam, Mishneh Torah, Hilchot Melachim 1:5.
31. Talmud Bavli Kiddushin 34a.
32. Tosefta Kiddushin 1:10.
33. Talmud Bavli Brachot 20b.
34. Ibid., Pesachim 43b.
35. Devarim 31:12.
36. Tosafot, Eruvin 96a.